Post by xxxxxCanManxxxxx on Feb 4, 2011 9:04:12 GMT -5
Diet Coke and Heidi Klum joined forces on to raise awareness and funds for women's heart health education and research. February is American Heart Month, and for the fourth consecutive year, Diet Coke is partnering with the National Heart, Lung, and Blood Institute to support 'The Heart Truth®' campaign
www.nhlbi.nih.gov/educational/hearttruth/
(read more about the brand's involvement in the movement in 2009
popsop.com/6260
and 2010
popsop.com/31823
).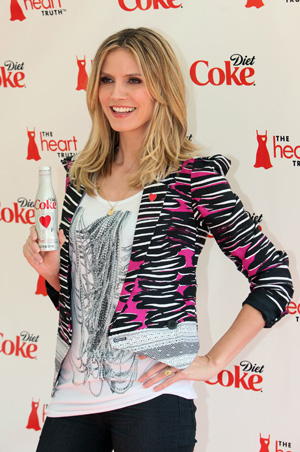 This year, Diet Coke has created a national game of 'Capture the Flag,' inviting people to visit DietCoke.com/HeartTruth
dietcoke.com/hearttruth/
where they can capture flags with a click of the mouse to trigger a donation from Diet Coke to heart health programs. On February 1, Heidi Klum and Diet Coke launched the campaign at an all-star, first-of-its-kind 'Capture the Flag' game in Los Angeles. Two teams, which faced off at the University of California, Los Angeles' (UCLA) Drake Stadium, were playing to raise funds for two heart health organizations: UCLA Preventative Cardiology Program and the University of California, Davis Women's Cardiovascular Medicine Program.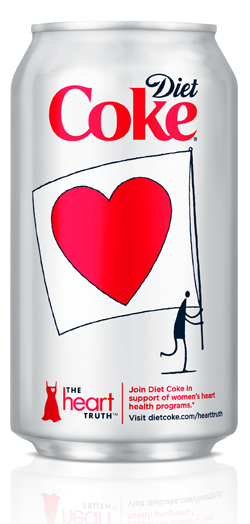 When people capture flags this month at DietCoke.com/HeartTruth, their actions will generate a donation for heart health programs funded by the Foundation for the National Institutes of Health (FNIH) in support of 'The Heart Truth' and women's heart health programs. On the site, people can also learn how to continue to plant and capture real world and digital flags throughout February. All captures will trigger donations up to a grand total of $100,000.
Diet Coke will be hosting the games in Atlanta, Austin, Boston, Chicago, Columbus, Seattle, and Washington D.C. Through the activities under the campaign, the brand will be donating over $300,000 to local heart health organizations this month.
Diet Coke is also bringing the campaign to consumers in stores. For the second year in a row, it has released limited-edition cans and bottles in recognition of American Heart Month. This year, the packages feature a stylized stick figure waving a heart flag in support of 'The Heart Truth,' and the graphics will be also featured in the U.S. TV and digital advertisements.
Supermodel Heidi Klum joined Diet Coke to help raise awareness of women and heart disease through the Diet Coke Red Dress Program, part of Diet Coke's new partnership with 'The Heart Truth,' back in 2008.
source: popsop.com