Post by xxxxxCanManxxxxx on Jan 21, 2011 9:46:48 GMT -5
Just heard about this through Twitter. On the 7up Germany website, they show new bottle and can box packaging with a simpler 7up logo. Well, here's a time when the Can Museum has something no one else seems to have yet. I was in Toronto, Canada last May 2010 and picked up a can of 7up with the new logo at Casa Loma's eatery in the basement of the castle.
Here it is:
More info @canmuseum.com:
www.canmuseum.com/Detail.aspx?CanID=29081
====
7UP Redesigns: Simpler Is Better
7UP becomes simpler—not in terms of the recipe, but visually. The citrus flavoured soda brand decided to drop some elements of its previous logo and make it look bolder and fresher. The new identity was launched only in select markets, and is not announced to be introduced in all the countries where the soda of PepsiCo's brand is available. The countries, which got the famous refreshing drink in 'a new outfit' are Germany and Canada (at least, promotional materials say so), but so far there's no official information on the launch available.
The redesigned bottles are featured on the brand's German website (alongside new tagline 'Simpler Is Better') and in its promotional materials within the 7UP Rire-O-Don campaign, launched in summer 2010 across the county (still, 7UP's Canadian website features the old version of the logo). The new design features lettering with straight lines instead of curvy ones, preserves the iconic faux bubbles and Jupiter-sized slices of citrus, and is mirroring the nature of the drink—brisk and full of refreshing taste. The word 'UP' is now pushed into the red dot.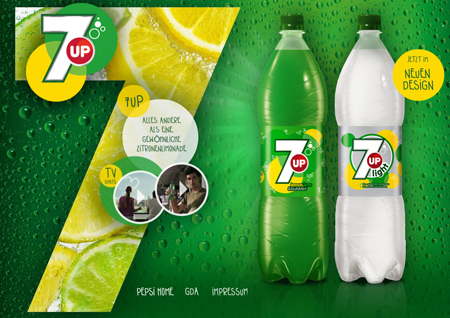 In June 2010, on its YouTube page the 7Up Canada released two commercials about the simpler ways of refreshment. The tongue-in-cheek spots, titled 'Love Story' and 'Refreshing Machine,' are dedicated to highlighting much less complicated methods to bring fresh tones into your life.
7up Germany:
www.pepsico.de/content/brands/7up/
Source: popsop.com